About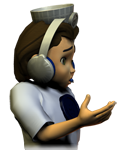 It's Here!
From the cult indie web-comic, Yak and the Getzaks(tm), comes a brand new game world–Getzaks:Kickback!  Getzaks:Kickback is all new GDG (Genetic Deck Game) from the last gamers of the old code at the SoftWorks and the legendary grognards of Egsa Press!
Crossfight Extreme!
All of your favorites, Dru, Ori, Ume and Zeo are here in a four player, team based game! It's fast! It's fun! It's the kind of wholesale geekery in gaming, cosplay, teching and fandom that gets you un-followed on social networks!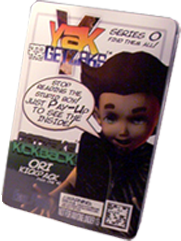 Just When You Think You Know the Answer…Yak Changes the Question
At the core of Getzaks:Kickback is the Getzaks:Kickpack. With the Plus One (+1) Kickpack gamers can acquire the character deck of their choice. The Plus One (+1) Kickpack contains everything needed to add a single player to the game. Each limited edition run of a character's Kickback brings additional artifacts that expand the game world.
What Are You Waiting For?
What are yo waiting for? Forget about seeing what's inside the Kickpack! Stop staring at this promo page and buy this game!