Brash junior agent and gifted mystic, Mr. Hellard enters the EXU from The Shadowlanders Almanac.
Name: Mr. Hellard (Lucas Hellard)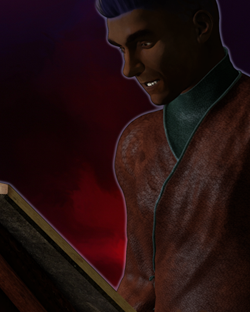 Secret Identity: (None Revealed)
Occupation: Shadowlanders Agent
1st appearance:   The Shadowlanders' Almanac  #1
Nationality / Ethnicity:  American Citizen of African-American Ancestry
Height:  6'2
Weight:  180 lbs
Eye Color: Brown
Gender:  Male
Relatives:  (None Revealed)
Skill and Abilities
Black Matter Wielding – Hellard holds sway over the ability to manipulate dark energy and shadow matter (referred to in occult circles as Black Matter). Using a form of Black Matter Wielding called Shadow Hand, he can take on targets in hand-to-hand combat, grapple or even channel dark energy into brief bolts of power to effect objects at a distance.
Unarmed Combat (Street Fighting) – Even without mystic abilities, Hellard is a battle tested brawler that can more than hold his own in a no-rules, no holds barred bare knuckle fistfight.
High Durability – Hellard's skill at unarmed combat is matched by a high level of durability.  Hellard has shown that he can withstand a fairly high level of damage.  Some suspect Hellard's durability may be a related to his Black Matter Wielding ability while others suspect that it may be related to a more sinister connection to the mysterious relic known as the Seal of Kanefer that may be seen in the palm of his right had when he taps into his abilities.
Super Powers:
 Gifted Mystic – Mr. Hellard's powers manifested at an early age and came largely without practice or study. This led to him rapidly discovering a range of abilities without real mastery of these powers. Having access to such powers made other mystics view him with unease. Rather than retreat he met their unease with a devil may care attitude.
Cord Killer – Using Shadow Hand, Hellard can tap into the celestial ligaments that fuel the threads of life, consciousness and the astral image. In tapping this power he can server the silver cord using a technique called Cord Killer. The power released from tapping into such raw cosmic power is massive and potentially corrosive in a number of ways. Like many Black Matter Wielding methods, Cord Killer has been known to physically and mentally distort those who use it too frequently. Hellard's eventual training by The Order covertly implanted a fear of using this power that causes him to perceive a mandatory cool down period before reusing it. It is unknown if he is aware of the conditioning, or what might happen if he overcomes it.
Psychic Radio (Faint) – Unlike most members of the order, Mr. Hellard was born with the power known as "psychic radio" switched "on." When tuned, this power allows the extremely limited reception and transmission of thoughts and sounds (clairaudience) between members of the team in battle. For some this ability can be used with high levels of effort, but for Hellard this ability came with little effort and once he understood this power, it was often a source of mischief and practical jokes until he joined the order. Hellard actively works to suppress his psychic radio power to harness other powers.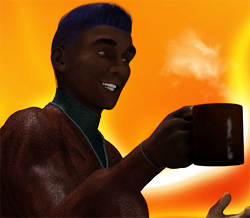 Biography
Lucas Hellard is reckless, cocky, opinionated but highly proficient. The junior member of the rebuilt Chicago chapter of The Order, Hellard was once a prodigy that is the mirror image of his new senior agent. Unlike Turin, Hellard does not hail from a family with a long history of work on the tome.  In fact, Hellard's abilities developed largely without the training of The Order. This lack of formal preparation and the potential of his power made Hellard an outsider before the reformation.  The reasons for his selection for the Chicago chapter or why so much of his prior service record was sealed away after the reformation are unknown.
Stats  

Mr. Hellard starts the series with the following series 1 stats:
Mi: 432p [6 | 9 | 8]
Bo: 567p [9 | 7 | 9]
So: 832p [13 | 8| 8